Flirty 30's Club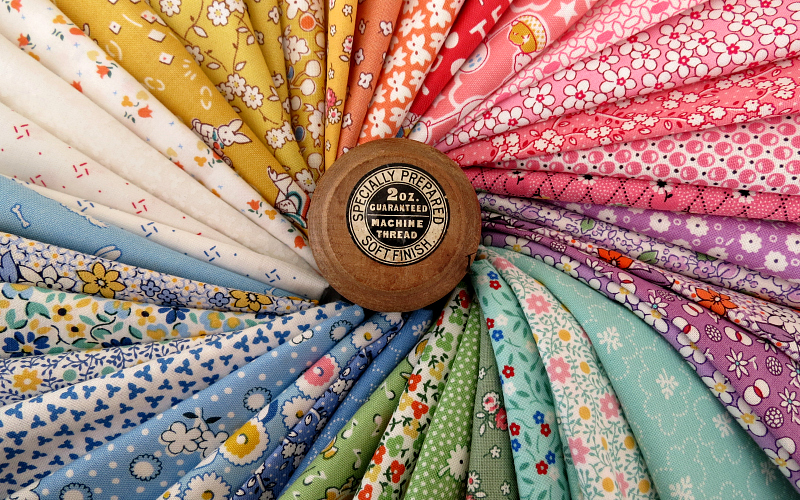 The Flirty 30's Club is a monthly subscription club and will run all year round. Each month you will receive a gorgeous bundle of pretty 1930's style fabrics through your letter box. Your monthly bundle will contain 10 different fabrics from a variety of your favourite designers, for example Bonnie and Camille, Darlene Zimmerman, Chloe's Closset, Judie Rothermel .... and fabric houses....Moda, Penny Rose Fabrics, Windham, Marcus Fabrics... all carefully chosen and cut by us in our unique and popular mini size pieces, (each piece measures 25cm x 35cm). So over a year, your stash will grow to include 120 different 1930's reproduction prints.....what will you make?!
DETAILS
The Club runs all year round and you can join or leave at any time, spaces are however limited.
Each month, your bundle will contain 10 different pieces of fabric, each individual mini size piece will measure 25cm x 35cm.
Prints included in your bundle will be a mix of 1930's style reproduction fabrics and may possibly include some specially selected prints not usually available within the standard Pretty Fabrics and Trims range.
Your monthly subscription will be processed via Paypal and includes all shipping costs. The monthly Club cost including postage is:
UK £17 (Via First Class Post)

Europe £20 (Via Standard Airmail*)

Rest of World £21.50 (Via Standard Airmail*)

*If you would like your monthly parcel full of loveliness to be sent by Priority Mail, please get in touch HERE.
Your Flirty 30's Bundle will ship on the 10th of each month (or the next available shipping day if this is a weekend or a UK Bank Holiday)
If you join the club on the 1st - 8th of the month, the first bundle you will receive will be that month's cherry picked selection. If you join after the 8th of the month, your first bundle will be the following month's selection. So for example, if you sign up to the Flirty 30's Club on the 3rd June, you will receive the June bundle, which will ship to you on the 10th June(see above). If you sign up on the 9th June, you will receive the July bundle, which will ship to you on the 10th July.
Subscriptions can be cancelled at any time via your Paypal account. If you have any payment queries please get in touch.
We are sorry, but Vouchers or Coupon Codes cannot be used to purchase a subscription.
The monthly bundle cannot be shipped with other shop orders, we're sorry for any inconvenience!
Please do take a moment to read all about our Delivery Information and our Terms and Conditions prior to purchase, thank you.
Finally, if you have any further questions, please get in touch with us HERE and we will do all that we can to help.